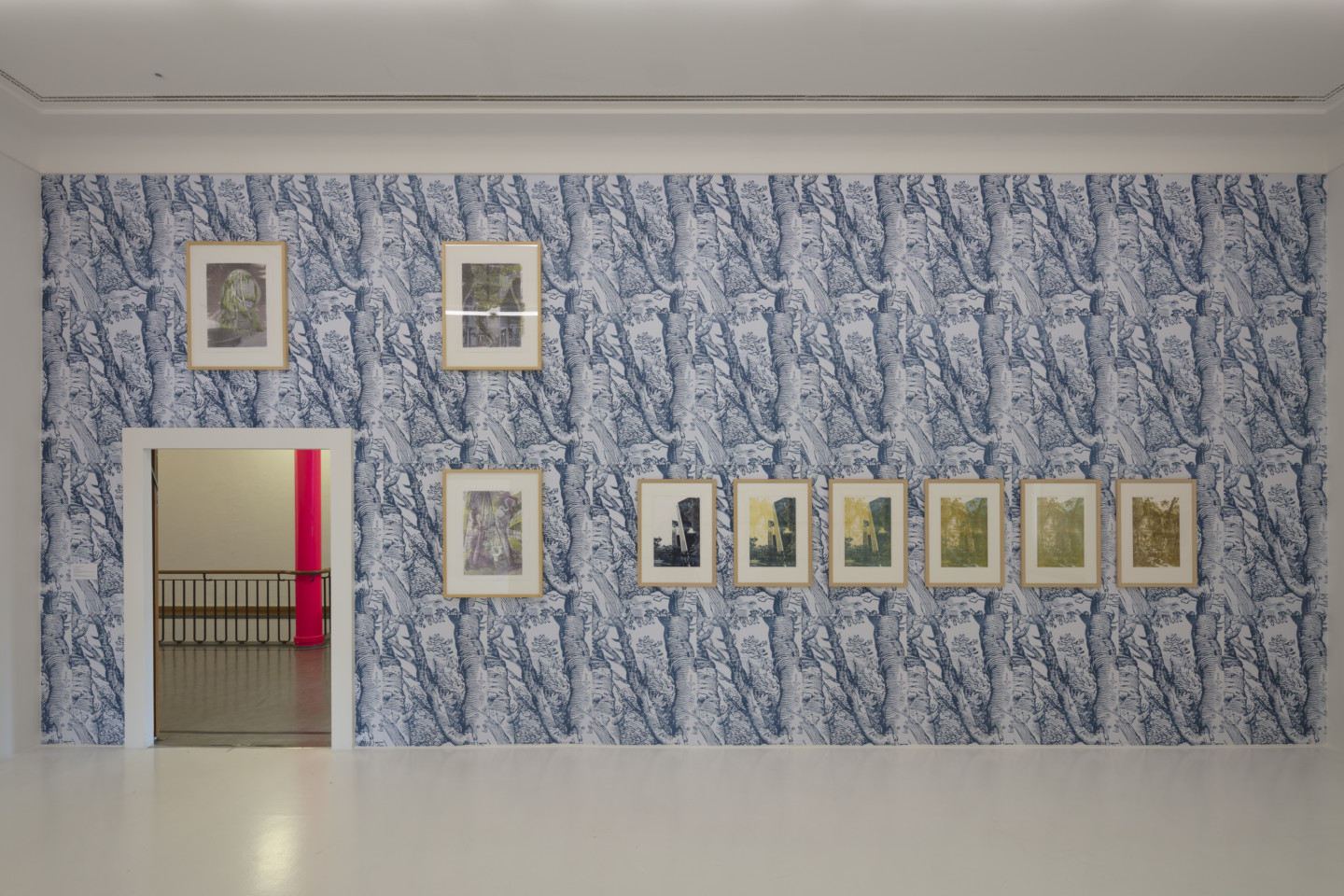 Works
1) Intrusion, Wallpaper, Lithography, 2014
2) 3 pictures of the series Salvation:
Beirut Souks, Monotype, Watercolor on paper, 72.8 x 58.5 cm, 2014
Wuxi Grand Theater, Monotype, Watercolor on paper, 72.8 x 58.5 cm, 2014
Ordos Museum, Monotype, Watercolor on paper, 72.8 x 58.5 cm, 2014
Eternal Present, Contemporary Art from the Graphische Sammlung ETH Zürich, Helmhaus Zürich, 2017
Room 3 – Collision of Orient and Occident
From Marco Ricci's Ancient Ruins with Eight Male Figures (1730) to Pascal Häusermann's series Praedium (2015) – the allure and tension of the relationship between nature and architecture has fascinated artists of every era. Ricci's etching from his 20-part series Varia Marci Ricci Experimenta impressively illustrates how nature regains its territory, with the ancient ruins soon to be completely overgrown. This classic eighteenth century trope can also be found in the prints by Häusermann. For both groups of works shown at Helmhaus, this Swiss artist has combined contemporary architecture with historical portrayals of nature dating respectively from the fifteenth century (Salvation, 2014) and the eighteenth century (Praedium, 2015). This visual juxtaposition and overlap not only raises questions about the impact of socio-economic change on our environment, but also about how and whether different eras can co-exist. This applies in particular to the six-part series Praedium, in which, depending on the way we read it, the glass facade of a high-rise in the bustling metropolis of São Paulo increasingly overwhelms the image of tropical flora. Or indeed vice versa.